Welcome to YORA
YORA Skin Science (YORA) is a new Australian premium cosmeceutical skincare brand formulated with biological active ingredients that feel as luxurious as any cosmetic but not padded out with harmful ingredients and do not compromise on results.

Our ultimate aim is to deliver a total skin wellness experience, which consists of the latest innovative ingredients with fully substantiated benefits that not only feels good but delivers on promises.

YORA has an extensive range of 23 products to choose from but we understand you are a unique individual who needs a skincare solution suited to your lifestyle coices, so when you are ready to commit to a full size purchase of YORA products, we have made this seamless and easy, with nine carefully created skincare routines to choose from for the perfect combination of products in a routine most suited to your skin's needs.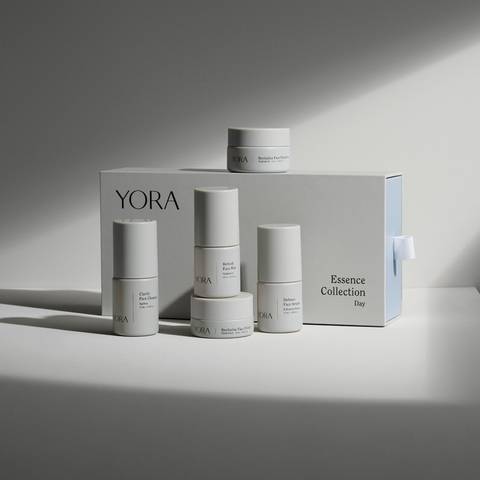 Discover YORA
As part of an introductory offer, we have a discovery pack, our YORA Essence Collection - Day that contains five smaller sized products for you to trial and experience the first steps into what can become a YORA chosen skincare routine to suit your skin's unique qualities and which will restore your skin health back to a natural glow and radiance.


This collection contains:
1x10ml Defence Face Serum (a lightwieght serum perfect for day time use)
1x15ml Clarify Face Cleanser (a low foaming refreshing citrus gentle cleansing gel)
1x10ml Refresh Face Mist (a hydrating mist ideal for dry skin that needs some moisturising)
1x15ml Revitalise Face Polish (a lightweight gel moisturiser to fight free radicals)
1x10ml Revitalise Face Polish (a gentle exfoliator with bamboo beads to remove dry skin)
The key active ingredients used in our products:
Clarify Cleanser:

Green tea – an antioxidant protecting the skin against free radical damage
Canadian willowherb™ – anti-irritant ingredient that reduces redness and controls bacteria
Refresh Face Mist:

GENENCARE™ - for controlling water balance delivering intense hydration for longer
Superox-CTM - from native Australian Kakadu plum especially designed to provide a topical supply of antioxidants necessary to fight free radical-induced skin ageing
Defence Face Serum:

Epidermist - strengthens the skin's rehydration ability, eliminates dead skin cells, and minimises the appearance of pores
Filmexel® - biomimetic active ingredient that protects and lifts the skin by protecting it from external elements
Revitalise Face Polish:

PENTAVITIN® - improve and strengthens the skin barrier function,  and maintains deep hydration for 72 hours
Allantoin - soften and moisturises the skin and has healing properties
Revitalise Face Moisturiser:

Ginseng, apple, peach, barley complex - increases luminosity by controlling excess sebum and uneven skin tone while protecting the skin against free radicals
Tetrapeptides that fight premature wrinkles
For a limited time and while stocks last, if you purchase the
YORA Essence Collection
discovery pack ($95), you will also receive a full size
YORA Clarify Face Mask
(contains Australian White Kaolin Clay) and beautiful designer
YORA cotton canvas tote
($150 in additional value).
Offer includes complementary shipping.